Jumpstart Test Prep Launches First-Ever, State-Sponsored ACT® Math Review Pilot Program for 15 Mississippi High Schools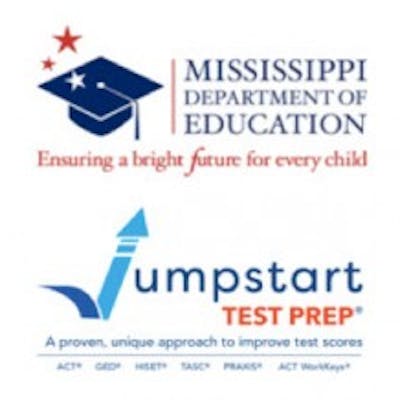 BROOKHAVEN, Miss., Oct. 24, 2018 /PRNewswire/ -- Jumpstart Test Prep today announced the selection of 15 Mississippi high schools to begin the first-ever, state-sponsored ACT® (American College Testing) Math review preparation for their juniors preparing for the state-administered February 2019 ACT® test. The prep classes begin at all selected Mississippi high schools Oct. 29, 2018. The pilot program is made possible through a $100,000 allocation from the Mississippi Legislature that empowers 1,700 juniors during the 2018-19 pilot year.
Working in conjunction with the Mississippi Department of Education (MDE), through the Office of Secondary Education, the goal of the pilot program is to help selected high schools improve ACT composite math sub-score averages.
During the 2017-2018 school year, the Jumpstart Test Prep Complete ACT Math Review program was implemented by several school districts and high schools around the state, and field studies were conducted to gauge student math improvement using ACT pretest or prior ACT results. These studies indicated most students demonstrate ACT math composite sub-score improvement after completing the review course, with the average improvement for groups ranging from one to three points.