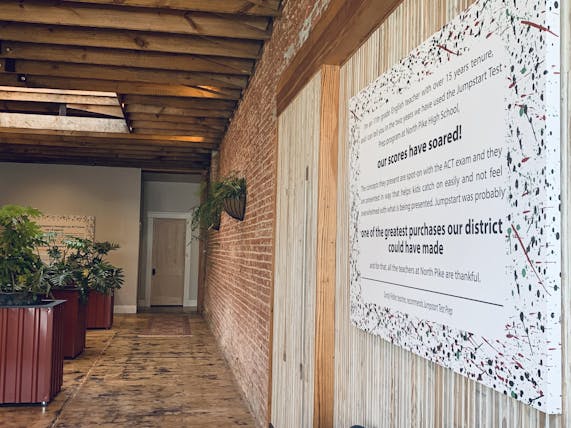 Our Story.
Our Founders.
Our Advisors.
Our Team.
Our Story
Jumpstart Test Prep began with one educator, Dot McClendon, and her passion to help students prepare for and perform better on the ACT® exam. She accomplished that for the daughter of Jumpstart's co-founder and CEO, Sha Walker. After having taken the exam six times using other preparation methods, Morgan Walker dramatically improved her ACT® score after completing Dot's brief classroom review of content tested, tips, strategies, and timed practices.
Dot's knowledge and expertise in this area is legendary. She has dedicated more than fifty-five years to teaching and has received many awards - the most prestigious was being inducted into the STAR Teacher Hall of Fame resulting from being selected as STAR Teacher 19 years by students at three different schools.
After a lifetime of perfecting and refining her unique approach, Dot's desire to pass along this knowledge to help students everywhere achieve the most improvement in the least amount of review was coupled with Sha's desire to design and make that opportunity available online. Jumpstart Test Prep has now helped deliver dramatic exam improvements for tens of thousands of students. Jumpstart's proven, guided review is now being utilized in the classroom by educators in hundreds of high schools across seven states and students around breakfast tables and living room couches across the country.
Our Founders
Dot McClendon, Co-Founder

Dot McClendon is first and foremost a people person. She has taught science and math for 56 years. She also serves as pastor of Homeseekers Bible Church in Wesson, MS. She is the primary author of the teaching modules in Jumpstart and has found its unique approach helps students of all academic ability levels stay fully engaged and gain the most improvement in the shortest time. She has mastered a technique of explaining difficult content in a way that every student can follow and understand. Score improvements by her students have led to acceptances into major universities accompanied by financial scholarships, which has opened the door to higher learning for many who would have never been accepted or able to afford college on their own.

Like many educators, Dot's passion for teaching was ignited by "seeing the light come on in a student's eyes," the exuberant moment when a student finally understands the material. This passion led to helping students prepare for the ACT® through private tutoring and live classroom events. After more than 40 years of tutoring dedication, few professionals are as qualified to provide exam preparation as Dot.

Dot has received numerous school, community, district, and state awards through the years, but says her best award comes when a student says, "I raised my score!" She is humbled and honored to have been selected nineteen years through the STAR teacher program, wherein the top ACT scorer in a school selects his/her most influential teacher. She has been inducted into the STAR Teacher Hall-of-Fame and recognized as one of the top five educators in the Mississippi Teacher of the Year program. Through Jumpstart Test Prep, her legacy of helping students will remain intact and allow many others the benefit of her proven approach.

Dot received her Master of Science degree in both chemistry and biological sciences from the University of Mississippi and her Bachelor of Science degree in chemistry with a minor in biological sciences from Mississippi College. A lifelong educator, Dot has taught at Copiah-Lincoln Community College, Brookhaven High School, and West Lincoln High School and recently retired as "teacher of the year" at the Mississippi School of the Arts. She is certified to teach chemistry, physics, biological sciences, and mathematics. Dot was married 26 years before becoming a widow. She reared two daughters and a godson, and she enjoys four grandchildren. She resides in Brookhaven, MS.

Sha Walker, Co-Founder & CEO

Sha Walker, Co-Founder & CEO of Jumpstart Test Prep was searching for a proven, unique approach to improve ACT test scores. He learned of Dot McClendon's ACT expertise and renowned preparation method firsthand after his daughter's seventh try using other books and resources while scoring 20, 20, 24, 24, 23, 24, and 23 on those attempts. After only 16 hours of preparation, Jumpstart ACT delivered a dramatic improvement on her final attempt, a score of 27, thereby saving around one-third in tuition with an academic scholarship.

In 2016, Sha began the mission of creating an online, on-demand delivery of Dot's 40 years of test preparation experience and proven techniques to the millions of students attempting college readiness, high school equivalency, educator certification, and workforce certification assessments as well as Algebra 1 proficiently and understanding.

At Jumpstart Test Prep, Sha leads all aspects of the start-up. Sha taps all of the skills he acquired early in his career at L.M. Berry Company and later at Hurst Review Services where he held senior roles.

Sha received his Bachelor of Business Administration in 1990 from Mississippi State University, and received his Master of Business Administration in 2017 from Millsaps College. He worked for nearly 15 years at the L.M. Berry Company, a Bellsouth company that later became an AT&T company. Sha served in roles of sales and management before joining Hurst Review Services in 2008 as Chief Marketing Officer, and later served as Vice President of Sales and Marketing. Hurst Review Services offers the nation's premier review course to assist nursing students preparing for the NCLEX® licensure examination. During Sha's tenure, the company realized a revenue increase of over 800%, growing from a southeast regional footprint to providing services in all 50 states and Canada.

Sha has been married 27 years, has two children, and still resides in the Brookhaven community. He has served as adjunct professor of business at Copiah Lincoln Junior College and past president of the Brookhaven Lincoln County Chamber of Commerce. He is also a member and past president of the Brookhaven Servitium Civic Club and is a congregant at Johnson Grove Church of Christ.
Our Team
Bobbi Gordon

School Implementation Coordinator 

John Johnson

Regional Director

George Kushner

Regional Director AL

Mac Patton

Regional Director - Gulf Coast / South LA

Madison Fauver

Operations Support Specialist

Rob McCreary

Regional Director & Office Manager

Rod Martin

Vice President of Curriculum / Regional Director

Roxie Landry

Partner Support Coordinator

Trudy Crawford

Partner Training & School Implementation Coordinator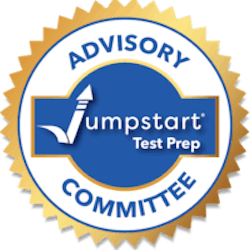 Our Advisory Committee
Jumpstart Test Prep Advisory Committee members collaborate by providing their evaluation and expert recommendations as the company builds and refines its test prep curriculum. JSTP is honored to have their support and is immensely grateful for all that they do!
Ben Cox, Ed. Ph.D.

Ben received his Bachelor of Science in mathematics, Master of Secondary Education with an emphasis in mathematics, and his Ph.D. in educational administration from the University of Southern Mississippi. Ben began his educational career as a mathematics teacher in Hazlehurst, MS and continued to teach mathematics at Pearl River Central High School. He served as assistant principal at Pearl River Central High School and principal at North Pike High School. Ben served as superintendent from 2000 through 2016, for the North Pike School District and the Brookhaven School District.

Ben has taught graduate-level classes for the University of Southern Mississippi and William Carey College as well as served on several educational boards including serving as President of Mississippi Professional Educators and President of the Mississippi Association of School Superintendents. Currently, Ben serves as a staff member of S-RESA, an educational service agency based at the University of Southern Mississippi.

Lesa Gibson, M.Ed.

Lesa earned both her BS degree in English and her MEd in secondary education from the University of Southern Mississippi.  She has taught high school English full time for twenty-two years, currently teaching English 11 and an ACT Prep elective at Hoover High School in Hoover, Alabama.  For several years while her three boys were young, she taught as an adjunct faculty member at William Carey College and at her alma mater, USM. Lesa first received her National Board Certification in 2007 and recently earned certification renewal.

Lesa has a heart for helping students improve ACT scores--the catalyst for her proposing and designing the ACT Prep elective at Hoover High School.  The results have been rewarding, with one of her students recently achieving a 36 score on the English section of the ACT exam!

Renee Austin, MMath

Renee earned both her Bachelor and Master of Science degrees in Mathematics from Mississippi College. She began her educational career teaching junior high and high school math in the Rankin and Madison County (Mississippi) school districts, where she worked diligently to help her students not only appreciate the importance of learning mathematics, but learning how to be successful in life after graduation. For the last 17 years, Renee was a mathematics instructor and department chair at Hinds Community College.

While at Hinds CC, she had the privilege of teaching all levels of mathematics from Developmental Math to Differential Equations. Teaching the different levels of learners provided Renee with a unique perspective of the importance of providing quality support and education to each and every student. As a department chair, Renee was instrumental in developing curriculum and programs to help students be successful not only in math, but also in achieving their academic and career goals. She had numerous opportunities where she could share her experiences such as writing a statewide junior high math test and presenting pedagogy and teaching techniques to instructors at other community colleges.

Some of the most rewarding and memorable times in her 25-year teaching career were receiving awards that were based on selection by students. While teaching high school math, Renee was chosen as Star Teacher by an exceptional student whom she taught for four years of high school math. That student is now a teacher herself! While at Hinds CC, Renee was named Teacher of the Year by the local chapter of Phi Theta Kappa, an international college honor society. The students who were part of choosing her for this honor had been through several semesters of Calculus with Renee during one of the hardest times in education – the COVID pandemic. Some of those students were quoted to say, "Mrs. Austin stuck with us, cheered for us, and was a great role model of how we should work hard and push forward no matter what stands in front of us."

Layne Xifos, NBCT, M.Ed.

Layne is currently employed at Brookhaven High School in Brookhaven, MS, where she is the Math Department Chair and teaches SREB Math Essentials, Algebra III, AP Calculus, and College Algebra. Layne earned her Bachelor's Degree in Mathematics (minoring in secondary education) and Master's Degree in Secondary Education, both from William Carey University. She began her teaching career in 2012. Layne is a National Board-Certified Teacher and is certified in ACT® Math Instructional Mastery. She also is an adjunct College Algebra professor at Hinds Community College.

 

Layne strongly believes in preparation and skills building to enhance ACT® scores, ultimately providing a stronger pathway to college though scholarship opportunities. She designs her classroom lessons to instruct students on what to expect on the ACT® and how best to approach a variety of potential question designs, ensuring that the students' complete content knowledge can be applied most effectively for maximum performance on test day.

Mary Beth Buchanan, M.Ed.

Mary Beth currently works at Columbia High School in Columbia, MS, as a Career and Technical Education (CTE) teacher where she is head of the CTE Department and administers ACT WorkKeys assessments. She holds a 5-year AA teaching certificate with endorsements in Family & Consumer Science, Social Studies, Science, and Biology.  Mary Beth teaches Family and Consumer Science, Career Exploration, Resource Management and Dual Enrollment Smart Start Pathway where her passion for helping students succeed in the workforce is utilized through college and career readiness preparations and ACT WorkKeys. Her 30-year teaching experience started when she chose to homeschool her seven children while earning her own education through distance learning. She received a Bachelor of Science in Complementary and Alternative Medicine from Everglades University and a Master of Education in Instructional Technology from American InterContinental Universal. In 2008 she began working at Pearl River Community College as an adjunct faculty member and in 2016 she became fully employed with them as an Adult Education instructor of Smart Start Pathway, a statewide employability skills course, where she first became involved in ACT WorkKeys. With over 15 years' experience as a distance learning instructor and over 7 years' experience as an online student, she gained a unique perspective and expertise to design and deliver engaging and interactive instruction via various learning platforms. 

These skills, along with her organizational skills and willingness to be proactive resulted in her initiative to modify the Smart Start Pathway curriculum so students could be more productive meeting the outcomes of the course. She spearheaded the first Smart Start Pathway distance learning course which was adopted throughout the state of Mississippi. In 2019 she co-presented Mississippi's first online Smart Start Pathway course at the Coalition of Adult Basic Education National Conference in New Orleans. At that time, she served as a mentor to several programs around the state as they reached out to her for guidance and best practices when creating their own courses.   Mary Beth's high work ethic, commitment to excellence, and dedication to those she serves, both students and colleagues, led to her service on the Mississippi Community College Board's Smart Start Curriculum State Team in 2019. Her work as an independent consultant and instructional technologist is ongoing as is her passion for learning and helping others succeed.

Kenny Goza,

Kenny is currently employed at Copiah-Lincoln Community College as Economic Development Coordinator. Recently, he spearheaded a team to create an ACT Work Ready Community initiative and through these efforts, Lincoln County became the second county in Mississippi to become certified as a Work Ready Community. He is currently striving to create a Certified Work Ready region in the seven counties of the Co-Lin Community College district. He also works with business and industry partnerships to support Career and Technical Education programs at Co-Lin.

Kenny was the program manager for the Mississippi Economic Council where he was responsible for the promotion of the Mississippi Scholars Tech Masters program. Through his efforts 60 new participants were recruited into the program. Kenny has also chaired the Brookhaven-Lincoln County Mississippi Scholars program; which is the most successful Mississippi Scholars program in the State.

In 2014, Kenny retired from Entergy as the Customer Account Manager where he focused on customer service, clear communication skills, conflict resolution, and timely and effective response to customer needs.  He is a gifted motivational speaker and has made presentations to various civic groups, and other organizations including the Community College Board, Construction Education Foundation, and the Association for Career and Technical Education.  He continues to be actively involved in many community and economic development projects in the Copiah-Lincoln Community College district.

Stephanie S. Duguid, EdD, ATC

Dr. Stephanie Duguid is an experienced educator with a diverse background that demonstrates her dedication and drive. Dr. Duguid has a Bachelor's in Human Performance from the University of Southern Mississippi, a Master's in Sports Health Care from A.T. Still University, a Master's in Curriculum and Instruction from Ottawa University, and a Doctorate in Educational Leadership from Argosy University. 

Stephanie has held a variety of positions including instructor, athletic trainer, and administrator at the elementary, high school, and university level.  At the community college level she has administrative experience in Career and Technical Education, has served as the Division Chair/Instructor in Health, PE, and Recreation, the Assistant Dean of Academic Instruction and is now the Dean of Academic Instruction.  

Stephanie is a respected academic administrator with extensive experience leading ten divisions, multiple initiatives, projects, faculty, and staff in the community college setting.  She has a proven track record in program and professional planning, curriculum development, and online instruction.  Through various cross-functional teams focused on advisement, instruction, and innovation of cutting-edge educational solutions, she has worked to drive greater efficiencies, engagement, and student success. 

She is the ultimate professional who welcomes challenges with the goal of educating students while being a steward to the community.  She is highly organized and known for "getting things done" in an efficient manner.

Bobbi Gordon

Bobbi Jayne Gordon has served students in Mississippi schools for 31 years as a classroom teacher, a school counselor, a psychometrist, a district test coordinator, an assistant principal, a principal, and an associate superintendent overseeing curriculum, instruction and assessment. Bobbi served 21 of those years in the North Pike School District, 2 in both the Hinds County and Simpson County School Districts, and 1 year in both McComb and Amite County School Districts. Bobbi also enjoyed working as a Senior Instructional Coach for 4 years with the Bailey Education Group.

She earned a bachelor's degree in Elementary Education from Southeastern Louisiana University and two master's degrees from Mississippi College- one in School Counseling and the other in School Psychometry. Bobbi completed the MS Alternate Path for Quality School Leaders which earned her the privilege of serving as an educational administrator. Additionally, Bobbi holds a license in the state of Mississippi as a Licensed Professional Counselor (LPC).

Bobbi exemplifies positive, professional leadership as she seeks to make a difference in the lives of the leaders, staff and students with whom she works. She focuses on student success, having led the implementation of both Mississippi's 2007 Curriculum Framework and then the MS College / Career Ready State Standards, along with the best practices for teaching and learning required to meet such rigorous expectations.

Bobbi continues to be a teacher and learner, making those around her strive for excellence. She enjoys working closely with leaders to "take care of the ones who take care of the students" - the teachers! Bobbi has a unique ability to work with school administrators to troubleshoot, solve problems, and see possibilities, often designing a way when there seems to be no way.