Mississippi Pilot Schools Announced for 2021-2022 JUMPSTART ACT Program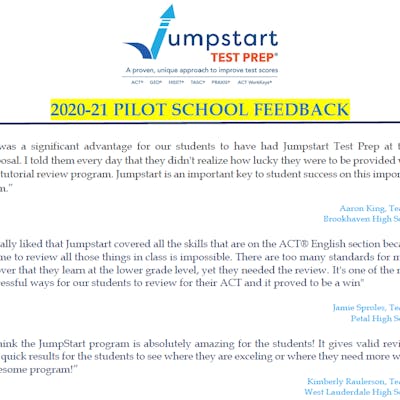 April 28, 2021 Communications Team Administrator News, EdUpdate
Jumpstart ACT Test Prep (Jumpstart), in partnership with the Office of Secondary Education at the Mississippi Department of Education (MDE), is pleased to announce pilot school selections for the 2021-2022 school year.
This year's selected cohort of public high schools will receive support, resources, and programmatic guidance to further improve their school's English performance on the ACT. Selected schools were randomly drawn by a third party from the remaining pool of applicants from last year's application process.
The 39 selected schools (below) will receive supports for approximately 4,500 Mississippi juniors, and are encouraged to submit page 2 of the Jumpstart Grant Acceptance Application by 12pm on May 21, 2021.
Amory High School
Bay Springs High School
Belmont High School
Callaway High School
Charleston High School